WISMA Solution

*Client
Rotor of Motor Manufacturer for AV Equipment in Malaysia
*Product Specification
| | |
| --- | --- |
| Material | SECE (JIS) |
| Thickness | 1.0mm |
| Applied Press | Progressive Processing Using 160tf Press, Model NC2-160(1) |
Assignment
Unstable and inconsistent production accuracy.
Parts that are required precise stable accuracy were produced inconsistently. After assembled, checked the balance and added weights to retain the accuracy of products.
Cause
Had to manufacture the products with unsymmetrical holes.
Raw materials with uneven thickness affected unstable parts accuracy.
Micron Unit also caused the unsteady accuracy on parts production.
Resolution and Result
Designed the die to retain balancing accuracy regardless of unsymmetrical hole location and the uneven thickness on raw materials.
Improved the process layout to manufacture stable accuracy parts to save the loss of material and to reduce the number of processing steps.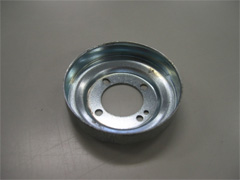 *Client
Bearing Retainer Manufacturer for Automobile in India
Assignment
Low productivity and dangerous working condition caused by single operation production.
Resolution and Result
WISMA proposed resolutions based on the timing and budget points of view.
Improved the productivity and safety of blanking process
Changed the blanking and drawing into one process to improve the workability
Increased the current productivity achieved by grinding with press forming process
Verified side square hole piercing process
Improved smooth surface at pierced square hole
Improved the safety and efficiency at center hole piercing process