WISMA Solution

*Client
House Made Electrical Control Parts Manufacturer in Vietnam
*Product Specification
| | |
| --- | --- |
| Material | SUS304 (JIS) |
| Thickness | 0.6mm |
| Accuracy of Outside Diameter | +0.03/0 |
| Applied Press | 110tf Gap Frame Press, Model NC2-1100 |
Situation
Customer did not have any experience on drawing die design and press product manufacturing.
Copied from some tools from Japan, they tried to make drawing die for stainless steel.
According to the defected samples provided by customer, there were many problems such as wrinkle on the drawn flange, necking at drawn parts top, unstable parts accuracy, crack of draw die, and etc.
Consultation Contents
Requested to resolve the production defects and desired to learn die design and manufacturing technical skills.
With only blanking and bending production experiences, the customer would like to start business on making drawing and forming parts.
Resolution and Result
Three months intensive guidance program on the theory of drawing and forming and practical production lessons were given to the customer's employees. The technique of change die design and ways to save on material usage were also advised.
As a result, with only just three months, the customer was able to master and design a new die, to process mounting, to work on die setting, and to complete the die trial. They were extremely satisfied that they were able to receive additional production orders going forward, and also they were able to communicate with head office in Japan about complicated deep drawing technique.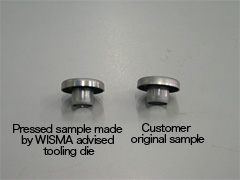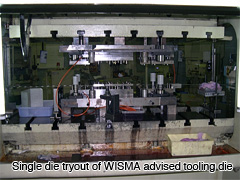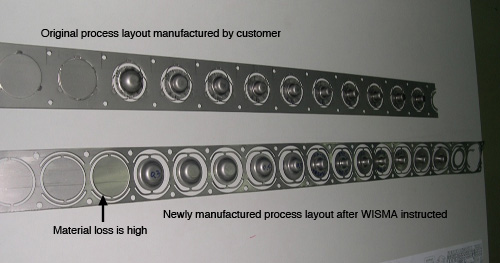 *Client
Tuner Case for TV Manufacturer in Malaysia
*Product Specification
| | |
| --- | --- |
| Material | SGCC (JIS) |
| Thickness | 0.8mm |
| Applied Press | Progressive Processing Using 200tf Press, Model NC2-200(1) |
Assignment
Two to three kinds of piercing die for different shape of connecter hole are required on a tuner case.
Replaced the current joining process of two parts done by separated process with one single press operation.
Resolution and Result
Regardless of eight different kinds of parts with different feeding bridges on the width and shapes, one die was designed and used for those eight different parts production.
Caulking was also done inside of this die.
As a result, the production efficiency was improved, and it was possible to supply steady and high accuracy parts.
Cut off 60% of tooling cost and 20% of production cost.