WISMA Solution
*Client
Car Parts Manufacturer in Japan
*Product Specification
| | |
| --- | --- |
| Material | SECE (JIS) |
| Thickness | 1.6mm |
| Applied Press | Transfer Processing Using 300tf Press, Model NS2-3000(2) with Transfer Unit |
| Production Speed | 35 spm |
| Number of Stages | 14 |
Assignment
Being unable to manufacture parts with forms closed to zero min. radius at top of drawn corner. We were asked to resolve this problem.
Parts specifications were:

Top corner inside radius is 0mm, outside is 0.5mm and inside diameter accuracy is +/-0.0075mm
Body inside diameter accuracy is +/-0.05mm
Concentricity of top and body inside diameter is 0.05mm
Resolution and Result
Normally both inside and outside corners of drawn parts have radius. Therefore, our engineer found a proper drawing volume and cleared the inside diameter to mold and achieve top corner to 0 mm radius.
For adjusting the volume, high level of technical skills is always required. WISMA provided the high level press forming technological skills to resolve the problem.
Note: Radius coming up both inside and outside of drawn parts, but WISMA resolved this problem as mentioned above.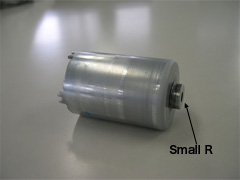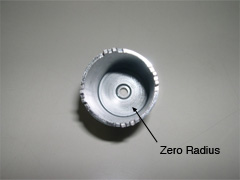 *Client
Accurate Air Joint Parts Manufacturer for Home Electric Appliance in Malaysia
*Product Specification
| | |
| --- | --- |
| Product Name | Accurate Air Joint Parts |
| Material | SPCEN (JIS) |
| Thickness | 1.6mm |
| Applied Press | Progressive Processing Using 200tf Press, Model NC2-200(1) with Coil Feeder Line |
Assignment
There was a limitation to manufacture high precision parts by press forming. Therefore, grinding process was done on a separate processing step.
Current process: Pipe cutting Expanding and edge machining Grinding, which required many different types of machines.
In this case, manufacturing cost became higher and productivity turned lower.
High variation of parts accuracy was caused by anisotropic material. As such, the overall production process was evaluated.
Resolution and Result
Applied progressive processing to achieve the required parts accuracy.
Used ceramic as a tooling material to avoid scratch on products and dies.
Added ironing process to one of the press forming to secure the accuracy.
Complied with anisotropy of coil material and cleared the parts accuracy.
As a result, improved the overall productivity 30 times more than before and the total production cost was reduced by 40%.