WISMA Solution

*Client
Clutch Parts Manufacturer for Automobile in Japan
*Product Specification
| | |
| --- | --- |
| Material | SAPH60 (JIS) |
| Thickness | 2.3mm |
| Applied Press | 150tf Press, Model NC1-150(2) |
Assignment
Due to the hardness of raw material, crank motion press was not suitable, in which the embossing portion is normally performed by knuckle motion press.
The customer did not have a knuckle motion press.
The customer did not want to invest in buying new press machines.
To avoid the increase of production cost and use the existing press machines.
Resolution and Result
Sought and changed the intermediate process of die, which enabled the existing crank motion press to produce parts.
Effective usage of current press machines, and solved the issues without requiring to purchase a new machine.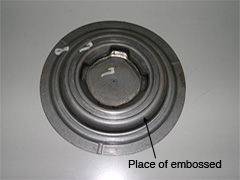 *Client
Electrical Parts Manufacturer for A/V Equipment in Malaysia.
*Product Specification
| | |
| --- | --- |
| Part Name | Walkman Cover |
| Material | SPCE (JIS) |
| Thickness | 0.5mm |
| Applied Press | 150tf & 110tf Press, Model NC1-150(2) & NC2-110(2) |
Assignment
Exclusive press was not available.
Needed to cut the cost down due to the use of 0.8mm thickness aluminum material.
Resolution and Result
Automated stamping press production line by connecting two existing presses with a line pacer, automatic feeding device.
Proposed material change due to consumer's preference of slightly heavier end products in European and American markets and achieved 10% of cost reduction.