WISMA Solution

*Client
Motor Parts Manufacturer for Washing Machine in Korea
*Product Specification
| | |
| --- | --- |
| Part Name | Motor Case |
| Material | SECC (JIS) |
| Thickness | 1.6mm |
| Applied Press | 400tf Transfer Press, Model TMX-400 |
Assignment
The accuracy of Φ26;0.016/0mm at bearing inserting point was difficult to secure by press forming and it is typically performed by cutting.
The variation of raw material thickness also affected the press process.
Resolution and Result
Applied press forming to manufacture parts that was previously processed by the cutting operation and achieved the same precision level.
Compared with the other raw material supply made in Japan, the issue of inconsistency on the raw material thickness was resolved.
As a result, maintained the level of accuracy, increased the productivity drastically, and cut down 20% of the total cost.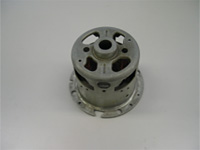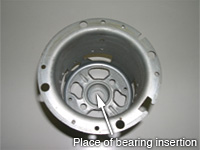 *Client
Manufacturer for Food Aluminum Can in Japan
*Product Specification
| | |
| --- | --- |
| Part Name | Aluminum Can for Food |
| Material | Aluminum |
| Thickness | 0.23mm |
| Applied Press | 200tf & 300tf Tandem Transfer Press |
Assignment
Joining two parts technology was used.
There was no other way to reduce production cost further under the existing price competition.
Requested to provide a workable solution to integrate two molding processes into one process.
Resolution and Rresult
Built a special equipment to integrate and fully automate two molding processes into one process from the original two jointed parts.
Installed dual transfer unit in the press machines to double its productivity.
As a result, improved the productivity by four times and cut down the manufacturing cost by 50%.